I have been spinning poi since July of 2016, when a friend of a friend brought her poi to an outdoor baby shower. I tried it out and thought "hmmm this could be something pretty neat to learn." Then I went to PEX Summer Festival and attended a workshop by Noel Yee, and I was amazed that he was able to put this medium of dance into such mathematical terms. I have been hooked ever since. Poi spinning is the perfect combination of the kinesthetic and physical, the abstract and mathematical, and the musical. It has become one of my favorite new ways to relieve stress and get out of my own head.
Here is a gif of me doing a move called a "four-petal anti-spin flower". It's called an anti-spin because the hand travels in the opposite direction of the light.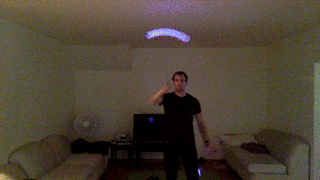 Funny story, I actually independently invented my own LED poi back in the summer of 2015, before I had even heard or seen of this type of thing. I used a pair of LED bike lights I had bought (despite not having an actual bike), and some twine I found in a shed at a party.